This is all for the safety and comfort of our customers.
We are generating unique technology with the world's highest-level research and development organization.
Our powerful technology development organization is the base for the creation of one-of-a-kind products.
Since our foundation, New Cosmos Electric has grown as a technology-intensive corporation. Our engineering staff accounts for about one quarter of all employees. They tackle technology development day by day with fully equipped facilities including cutting-edge analytical devices and testing devices.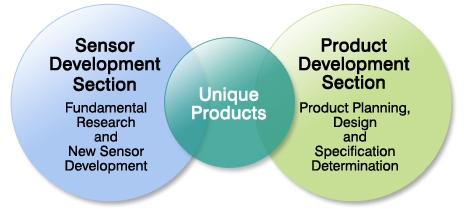 New Cosmos Electric has built the world's largest-scale research and development organization in the field of gas sensors.
Gas sensors are New Cosmos' core technology. At the world's largest-scale research and manufacturing facility "COSMOS SENSOR CENTER", our development departments start from the basic research stage with original concepts and have developed many innovative gas sensors. Of course our developments have made important improvements to existing sensors, making them more compact and more sensitive, and they have also widened our possibilities into new fields based on the fruits of our research, for example by developing odor sensors.
We develop valuable products that meet the needs of global markets.
As the only manufacturer of gas alarms in Japan, from alarms for the home to alarms for industry, we develop products that meet the needs of the market. In addition, we are working to speed up product development in coordination with our sensor development department.
Our product development department listens to what customers tell our sales department and constantly seeks to make products that incorporate the needs of the market.
Amidst our global business development, our products for overseas markets are certified under international standards and European, North American, Chinese, and other national standards.
New Cosmos Electric seeks out possibilities for sensors in joint research that teams industry, universities, and governments.
New Cosmos actively carries out research and development in cooperation with industry, universities, and government in order to further advance gas sensor technology. For example, we jointly develop sensors with university institutions, including inviting university professors to lead study meetings.
Also we have an extensive proven track record in the development of sensors for hydrogen-fuel automobiles under contract from the NEDO*.
Recently, we have been conducting joint research on high-precision odor sensors with Ehime University.