Battery-powered methane detector
We have developed, for the U.S. market, a battery-powered methane detector to connect to the smart network.
(7-1-2019) NEW COSMOS ELECTRIC CO., LTD. (JASDAQ listing: securities code 6824) has developed a battery-powered methane detector to be connected to the smart network and installed nearby internal gas pipes and gas meters, and it has been picked up for use by Con Edison, a company in New York State.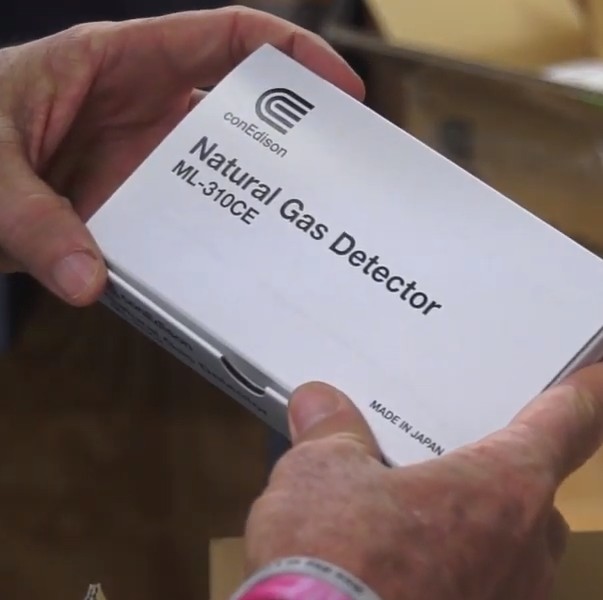 Development history
In recent years, gas leakage accidents have occurred in New York City. Following accidents, Con Edison, a company that provides gas in that area, considered introducing methane detectors that would quickly detect any gas leak, directly notify the Gas Emergency Response Center at Con Edison and accelerate notification of the fire department, in addition to anti-deterioration countermeasures on their infrastructure including pipelines, etc.


Our company is engaged in development, manufacture and sale of gas alarms and gas detectors for a wide variety of purposes from industrial to household use. In 2015 we developed and put on the market a battery-powered household gas alarm.


Now, by applying the technology of this battery-powered household gas alarm, we have developed a business-use, battery-powered methane detector to be installed in the vicinity of the gas pipes or gas meter in homes and office buildings, and for the wireless transmission technology needed for the information transmission and coordination with the smart meter we are utilizing the transmission technology of the U.S.-based Itron, Inc. These detectors have been picked up by Con Edison, and installation began at the end of November. This is the first battery-powered methane detector with wireless communication in the American gas industry.


If the gas detector detects a gas leak, Con Edison receives the wireless signals (through the Itron systems) and contacts the local fire department.
Our company will, going forward, promote this technology to other energy companies in the United States as well.
Marc Huestis(Vice president for Con Edison's Gas Operations)
"These detectors could help save lives by using smart technology to communicate directly from a customers' home to our emergency department. We're proud to be the first utility in the country to pilot this incredibly important gas safety initiative."
Todd Thayer(Technology partner enablement executive at Itron)
"We are delighted to see Con Edison benefit from Itron's and New Cosmos' technology to improve safety for its customers. This is a great example of the power of Itron's developer program as New Cosmos was able to integrate our communication technology with its methane detector to connect this potentially life-saving device to the existing Con Edison smart network."
Additional Information
・Consolidated Edison Company of New York, Inc.
Founded in 1823. As a subsidiary of Consolidated Edison, Inc. (NYSE: ED), one of the largest energy companies in the United States, they provide electricity, natural gas and steam to 3.4 million customers in New York City and Westchester County.
・Itron Networked Solutions, Inc.
Founded in 1977. This is a company based out of Washington State, which provides more than 100 countries with technology related to energy and water provision. In recent years they have also been making efforts in the IoT and smart city sectors.